Resolve to write! 2018 Writing Classes Begin Saturday, Jan. 6, 2018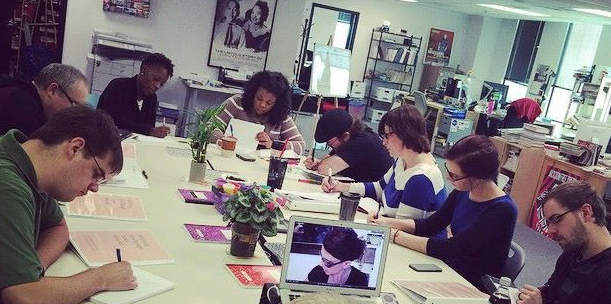 ***Until midnight on Friday, Dec. 1: $199 for five classes ($151 off!)***
Want to write to change your world? The world at large? Your city? Your state? Your personal life? Your career?
My popular "Writing to Change Your World" creative non-fiction class series kicks off the first week of January. In my classes, which I've taught for more than 20 years, I coach you to write sparkling creative non-fiction stories, essays, columns, and memoir scenes and chapters. In these interactive workshops, you will demystify the process of writing and bring out your natural storyteller. The classes will empower you to write the story you've always wanted to tell. Learn the kinds of writing that persuade and engage readers, while developing your voice by writing stories you care about. No previous writing experience needed, and we work on original writing in the class, not existing manuscripts.
A class workbook and snacks/drinks at every class are included in the fee. Must register in advance; credit cards accepted; gift certificates for future classes are available in any amount starting at $25.
Class series includes five 2018 Saturday class meetings, noon – 2:30 p.m.:
Jan. 6, Jan. 20, Feb. 3, Feb. 10 and Feb. 24 in Capital Towers in downtown Jackson:
125 S.  Congress St., Suite 1324 in the JFP's large, open learning space.
(All classes video + audio recorded if you have to miss.)
Regular price: $350
Register quickly and get the following specials:
***Until midnight on Wednesday, Jan. 3: $275 for five classes (if space available) ***
After Jan. 3: $350 for remaining available spaces
Also includes free "How to Sell Your Writing Workshop" (April 21, 2018, tentatively), value $100
Plus, you'll get 20 percent off other future classes
Write class@writingtochange.com to register, to pay by credit card and to get on mailing list. Call 601.966.0834 for further information.
Limited spots available! Register now.
Class fees are non-refundable unless we're able to draw from a waiting list to fill your spot. All checks should be made out to "Donna Ladd" and dropped or mailed to: Donna Ladd, JFP, 125 S. Congress St., Suite 1324, Jackson, MS 39201 (same place the class meets). Gift certificates are non-refundable.
Register now at class@writingtochange.com.
Read more about the writing instructor at donnaladd.com.
Hope to see you in class!
Companies and nonprofits: I'm available to do in-house workshops for your team members on improving their writing and storytelling, as well as bringing more creativity into their work and lives. Ask me about my "Creative S.W.O.T" analysis to help your folks tap into their creative potential at work, and combine their workplace strengths, weaknesses, opportunities and threats with fun, creative strategies for success that strengthen the workplace culture.
__________________________
TESTIMONIALS
Great class. I highly recommend it. Will help you become a better writer or give you the tools to become a writer.
— Bryan Flynn
I absolutely love Donna Ladd's classes. Donna empowers you to find your individual voice in writing and challenges you to find your unique perspective through narrative non-fiction and other methods of writing. She encourages your inner writing diva and provides guidance and wisdom along the way. I consider Donna a mentor and a friend.
— Anita Modak-Truran
I have taken Donna Ladd's classes 101 and 202 and could not be happier with the information I have received. Donna has motivated me to write more and taught me how to rewrite my work increasing the quality and readability. If you are interested in improving your writing style and learning about non-fiction writing, I strongly recommend Donna's 101 class.
— Kenneth Pennington
When I started the classes I had nothing written down on paper. Donna has inspired me to write pages and pages and really enjoy it. It has gotten a lot easier to sit down and get the words from my brain through my fingers. She has taught me how to show my stories, not just tell them.
— Carolyn Grant
There is no better way to spend a Monday night…. than Shut up and Write. No mystery here: I think Donna's Shut Up and Write series is one of Jackson's best-kept secrets. Donna's class has changed my life! Are you brave enough to change yours?
— Pat Bullock Williams
Donna Ladd's 101 Writing Class gently guided my pen from my private journal pages to pages for others to read. The course is an amazing conglomeration of fun, instruction on technique, fun, candor, fun, emphasis on truth telling, fun, and FUN!
— Jackie Warren Tatum
UPDATE from Jackie, who published her first book in late 2016:
It was in freelancing for you that I began; it was in your writing class, Donna, that I discovered the courage to understand that I was a writer.
— Jackie Warren Tatum
You changed mine! I am still writing. I am thankful every day for you.
— Emily P. Levin
I dare you to try and take just one. I'm going to need a 12-step program to get through my Donna withdrawals when 303 is over in a couple weeks.
— Kristen Phillips
Time stands still in each class! It's hard to grasp having access to such an incredible education right here in Jackson, MS! This experience has totally inspired me!
— Candy Hagwood
Register now and get more information at class@writingtochange.com or call 601-966-0834.
Read more about the writing instructor at donnaladd.com.
Happy writing!